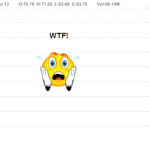 twitter value – twitter stock price today
When I look at the twitter chart, I am not flabbergasted, I am more in awe that it seems the dot com boom of old back in the 90's seems to be repeating.
YES! if you can remember that dot com boom, the internet was growing at a rapid rate, and search engines were well established companies. However, and there is a however as soon as skyrocketing prices hit news and media headlines, the drunken romance with these stocks soon came to an abrupt end!
WHY?
Well, when people started realizing these companies, did not have real worth, and their business models were not only defunct, they did not have a real plan or income in the first place things spiraled down quickly and the whole entire market crashed over a space of a 2 year window. It was the hangover from the dot com boom, and it hit investors very hard.
As you can see below TWITTER is now listed on the market, and with other social media stocks, now floating and listing on the US stock exchange, within the space of a few months, the price of twitter has gone from $45 per share to almost $75. Wow!, But I guess the real question here is how long until the drunken romance ends? How long until people realize twitter is just a business based on sending text to another user, that does not really probably want to read it. LOL
This thing has DOT COM 2.0 Written all over it I think! But still it does not mean that twitter prices can not go higher!
Round and round and round she goes. Where she stops, nobody know!
WHICH WAY THE MARKET WAS ABOUT TO MOVE BEFORE IT HAPPENED? CLICK HERE To Join Our VIP ELITE GROUP — FREE!
Powered by |
View original article:  
twitter value – twitter stock price today – The Sentiment Trader – Blogger